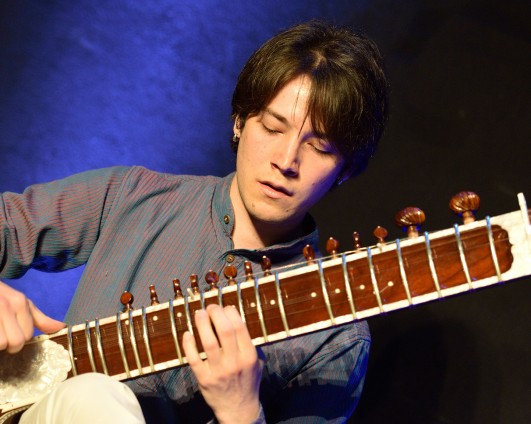 Leo is pursuing academic and practical studies in Hindustani music. He graduated in Indology at the University of Bologna with a thesis on the relationship between Khayal music and sufism in medieval India. He is presently completing his MA in music Performance at the SOAS University of London with a research project on the cognitive schemas applied by Imdadkhani sitar players in tan improvisation.
At the same time Leo has been learning sitar from Pt. Avaneendra Sheolikar, Ust. Dharambir SIngh, Ust. Shahid Parvez (masterclass) and Ust. Irshad Khan (masterclass), all from the Imdadkhani gharana–famous for developing a vocal style on the sitar. Leo is also an experienced performer, having played professionally in USA, Colombia, European countries, China and India.
Leo Vertunni was born in a family of Sahaja Yoga practitioners, hence Indian classical music and meditation were central in his life from the very beginning. Leo says, "The connection I can establish with my inner-self through Sahaja Yoga meditation has always been the first and foremost source of inspiration for my relationship with the art of sound".