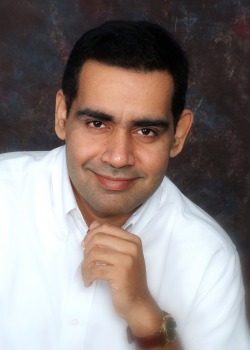 Shankar Ramani is a vocalist and exponent of the Indian Classical (Carnatic) style of music. Born in Chennai, India, he moved to the United States in 2004 to pursue a career as a Director in a renowned IT company. He currently resides in Pittsburgh, Pennsylvania.
Shankar's journey in music began at the age of five, when he performed a popular film score for an appreciative local East Indian audience. He was hooked. He understood, even at this young age, the intense power and emotional resonance of music, and the joy and fulfillment of communicating and connecting with other human beings through music.
Shankar performed his first concert in Chennai in 1995, and has since performed concerts all across the globe. His vocal style is undiluted classicism, true to the authentic South Indian Classical (Carnatic) musical tradition. At the core of his renderings is Bhakti (devotion), a deep, innate sense of spirituality, from the first note to the last. He enjoys the challenge of effortlessly rendering complex music.
Shankar learned the Carnatic Style of music under Shri O.S. Thiyagarajan, one of the top-ranked musicians on the professional Carnatic music circuit today.